Jos käytät Windows-työasemaa, Windows-kannettavaa tai Microsoft Surface Prota, voit käyttää Palo Alton Global Protect VPN-sovellusta kun olet yhteydessä Oamkin verkkoon sen ulkopuolelta.
If you are using a Windows desktop, laptop or Microsoft Surface Pro, you can use Palo Alto's Global Protect to create a VPN connection to Oamk network. Global Protect uses IPsec or SSL for protection, depending on the situation.
NB. Oamk will discontinue Global Protect for VPN later this year (in December 2022).  Please see other options for VPN:
---
Laptops and desktops: Start using Global Protect for Windows and Microsoft Surface Pro
NB. you need administrator rights to your computer to be able to  install the program to your computer.
1. Get the installer to your desktop/laptop from https://pa.oamk.fi. (Sign in using your Oamk account.) The log in window looks like this: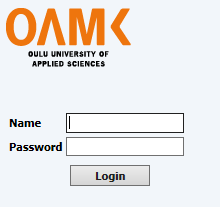 2. Choose the right version for your computer: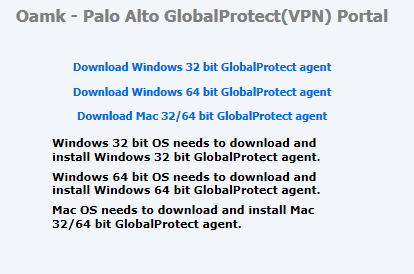 If you are not sure if your computer is running 32-bit or 64-bit Windows, you can e.g. follow the guideline at About.com.
3. When you choose the right version you will get a prompt from your browser about saving/running the file. How the prompt looks like, depends on the browser. You may either save the file and then find it and run it (by double clicking the file), or you can run it straight ahead (on most browsers). In the picture below, the Run option is chosen. This choice will install the GlobalProtect package (=a .msi file) immeadiately after the download is finished.

4. Wait until the file is downloaded and then run through the installation wizard using the default settings.
If your GlobalProtect VPN does not open automatically, you can open it from the Start menu: just start writing the name GlobalProtect to search field, and while you are writing, it will sooner or later show in the list. Click the name and a dialogue will open.
5. In the Portal address field, you should type pa.oamk.fi and then click Connect.
6. Then sign in, using your Oamk username and its password to the appropriate fields. NB. When you log in, you have to use MFA.
7. Wait a moment for the connection to be established. You will see the status from the VPN icon on the Windows taskbar. Oftentimes the icon ends up in the hidden section but if you want, you can drag it to the taskbar so you can see the status immediately.
When the VPN is not connected, e.g. when you have just restarted your computer, the VPN icon is grey.
8. From now on, just click the icon to change the status. Choose Connect to establish a VPN connection and Disconnect when you don't have to be in the Oamk network.